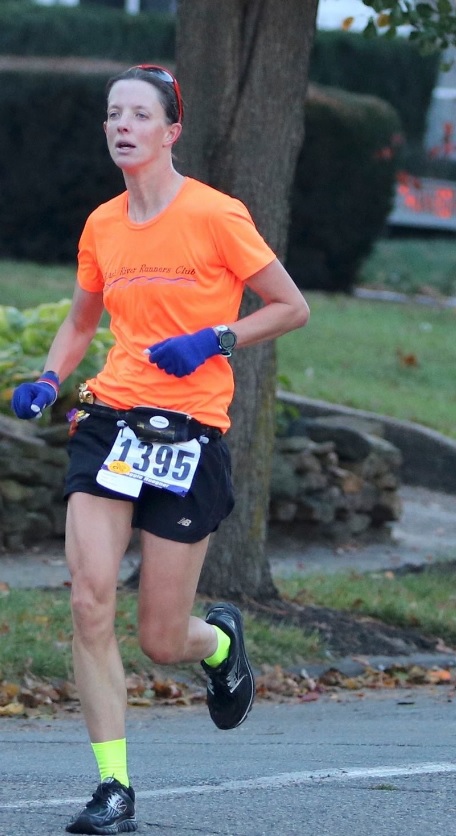 Name: Maggie Roegner
Location: West Lafayette, IN
Original Hometown: Wheaton, IL
Professional Career: Work for CVS Pharmacy
Favorite Running Shoe: Brooks Glycerin
Favorite Race Distance: Marathon- I think?
Favorite Personal Record (PR): 2017 Monumental Marathon 3:26
Favorite Food: Seafood Favorite Singer/Band: I love the 80's and 90's, which is classic radio now 🙁
Favorite Book or Movie: "Jonathon Livingston Seagull" although kind of a kid's book, helped me believe in myself when I was in high school. I have lots of books I love, and enjoy sharing reading ideas with people, if anyone has good ideas.
Q: Can you give us a little background on your running history? What got you first involved in the sport? I have been a runner for as long as I can remember. It was helpful to be a little fast to get away from my three older brothers. I started competitive cross country and track and field in 6th grade and continued through 2 years of Track and Field at Purdue. I got involved with running competitively thanks to my 6th grade math teacher who was also the cross country coach.
Q: What are your top memories from your competitive career? Competing in Long Jump, Triple Jump, High Jump, Javelin, 100 hurdles, and 400 hurdles in Seattle, Washington for a meet at UW. I had so much to do, there was no time to be nervous or tired. Winning the 300LH conference championship in high school in a blinding downpour. BQ in my second marathon and a 30 minute PR. Above all, I was thankful for all the miles logged with friends and the great coaching I had leading up to that breakthrough race.
Q: Who has had the most influence on your athletic career? My parents were an ever present source of support and encouragement even when things didn't go very well. My brothers didn't prepare me to be pretty princess kind of girl, but they made me tough and taught me to push through a lot of misery. Now I have tremendous running friends that I share miles and stories with, and they keep me grounded and encouraged.
Q: What races are you preparing for and what are your goals for those races? I am doing my first triathlon on August 19th, it will be quite a stretch out of my comfort zone. It is a sprint, so it will be a good introduction to this new to me, endurance sport. Depending on how that goes, maybe Boilerman Olympic will be in my sights in September. After that, I think I will have my eyes on Boston. Maybe I should race more than this?
Q: What are one or two of your favorite workouts that you are looking forward to running this training segment? I have been enjoying all the swimming training because I have seen the most drastic improvement. I went from terrible and barely able to swim 50 yards to doing 1000 yard warm-ups followed by a workout. Likewise, the brick workouts where I cycle, and do a quick transition to a run, have been lots of fun. It is a weird feeling trying to run after cycling, I feel like my legs are sticks and under the control of someone else, and after some time they are moving well and feel stronger than I do on most runs. It's all so weird, but after many years of just running, it has been a fun challenge.
Q: How has the Wabash River Runners Club helped you towards your running goals? If it were not for the Wabash Runners Club, I would have never run a marathon. It was good friends that I met through WRRC that got me through those absurdly long runs that seemed impossible at first. I have had members help me through some of the worst times in my life, and keep me from giving up on what I love, and brings me such joy. And without them and the many people I have met through friends of friends, I would have like only 1 friend. Instead, I have a very huge and wonderful running family.