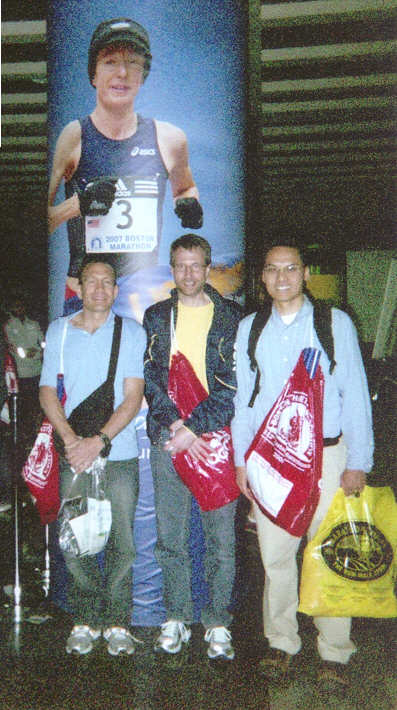 Location: Lafayette, IN
Original Hometown: Lafayette, IN
Professional Career: Accounting and financial management.
Favorite Running Shoe: Adidas Boston
Favorite Race Distance: was half marathon from my first until my last in 2008. Currently 5k.
Favorite Personal Record (PR): 3:08:55 at 2006 Columbus Marathon.
Favorite Food: Cavatini
Favorite Book or Movie: Jerusalem Bible.
Q: Can you give us a little background on your running history?
My birthday is in June, close to the time I turned 30 I became winded cutting my grass and needed to rest. Also, my gut was getting bigger. I decided to exercise and running was not expensive. It could also fit my schedule since I could do it alone. The last thing on my mind was a marathon (I was happy to get to two miles without a rest). My wife encouraged me to try a 5k even though I had not yet reached three miles without a walking break. I did it and loved the experience of putting on a number and getting scored. The goodie bag had a coupon for three free issues of Runner's World. I subscribed and saw the stories about marathons and started to wonder if that was possible for me. I loosely followed one of the plans and finished my first marathon in 1997.
Q: What are your top memories from your competitive career?
Destination marathons with friends from WRRC, which are Boston (4 times), Tupelo MS, Air Force (Dayton OH), and Phoenix.
Q: Who has had the most influence on your athletic career?
David Jackson: I was doing all training on a treadmill. He convinced me to run with the WRRC. We would meet at 5:10a or 6:00a on Sunday morning depending on what distance we needed.
Q: What races are you preparing for and what are your goals for those races?
5k and my goal is to be faster than 7:00 per mile (and I seldom do it now).
Q: What are one or two of your favorite workouts that you are looking forward to running this training segment?
I have always liked tempo runs. Breathing hard but not gasping is really fun. Feeling legs, heart, and breathing reminds me I am alive.
Q: How has the Wabash River Runners Club helped you towards your running goals?
I would not have 22 marathons without the club. The novelty of doing long runs week after week would have gone away quickly. Instead, I looked forward to that 2 to 3 hour time each Sunday. The city is pretty quiet at 6:00a on a Sunday. Yet, there would often be five or six of us having a conversation with starlight on quiet roads. My experience is that distance runners are nice people. I think you must be real. There is no fake distance runner. Nobody would pretend to run 14 miles. We wanted the training. We were not trying to impress anybody. We all respected each other. Everybody shared their knowledge because they wanted to see other runners do well too. We all ran against the clock first and each other second.