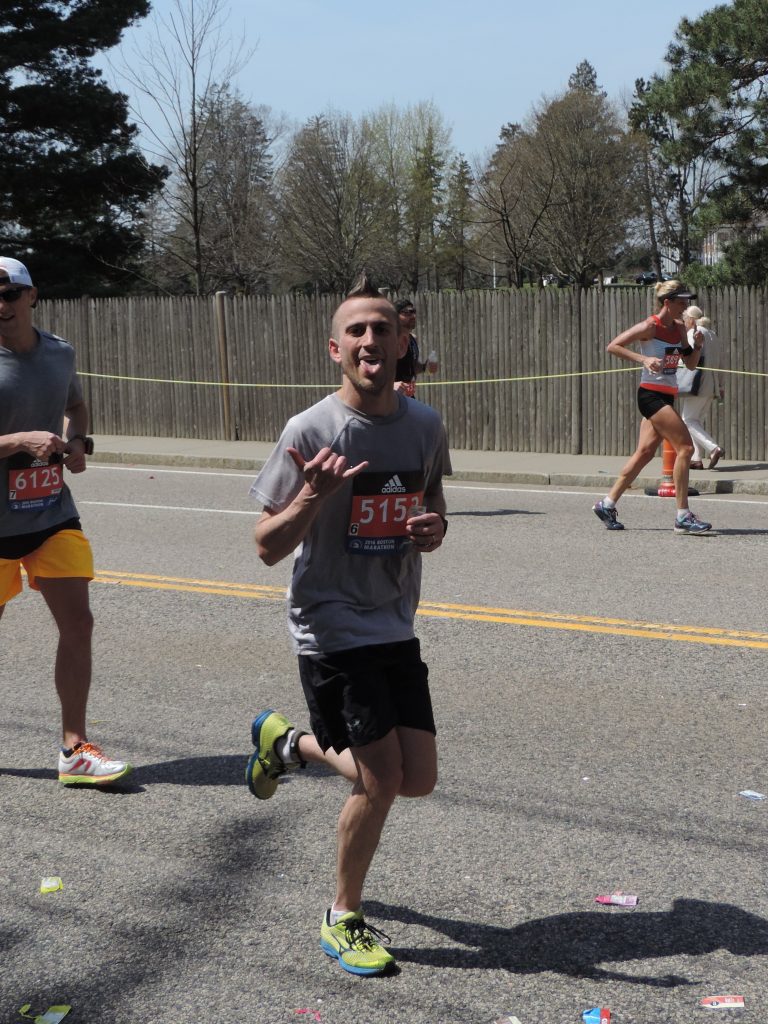 Location: West Lafayette, IN
Original Hometown: Wadsworth, OH (Northeast Ohio)
Professional Career: Senior Engineer, Cook Biotech
Favorite Running Shoe: Mizuno Wave Rider
Favorite Race Distance: I just wanna go fast!
Favorite Personal Record (PR): 3:01:56 – Monumental Marathon, 2014
Favorite Food: Burritos
Favorite Book or Movie: A Canticle for Leibowicz – Walter M. Miller, Jr.; Die Hard, Pulp Fiction
Q: Can you give us a little background on your running history?
My mom used to tell me, "Go run around the house," when I was really little. I guess I had some energy to burn. I used to ask her to time me, and then I'd see how fast I could go around twice.
In 7th grade, I tried to go out for football, but I was only 70lbs., and the coach told me I should go check out the cross-country team. I owe that guy my life. Distance running clicked with me right away, and I was dedicated to it from day one. I ran both cross-country and track through high school. I walked-on to the cross-country team at The University of Toledo where I ran from 2004-2008.
Q: What are your top memories from your competitive career?
My high school cross-country team won the conference my sophomore year for the first time in decades. That was a really cool day.
I ran my collegiate PR in my last 8k race in front of my family and my future in-laws back in 2008.
At the 2014 Monumental Marathon in Indy, I ran exactly to plan, attacked at 18 miles, and qualified to Boston in only my second marathon. I was so happy I danced.
Q: Who has had the most influence on your athletic career?
My parents and my middle- and high-school coaches were great at encouraging me to push past limits that I set for myself. My mom's always said, "The faster you go, the sooner it's over."
Since I've been out of school, my wife has been amazing. She's always willing to talk through different race strategies or training plans. She's at the big races for me where she frequently chases on a bike. When I need a kick out of bed to run in the morning, she's got my back.
Q: What races are you preparing for and what are your goals for those races?
I'm training for the INDYTHON which includes both the Indy Half Marathon at Fort Ben in October and the Monumental Marathon in November. The goal is to finish in the top 20 combined times.
Q: What are one or two of your favorite workouts that you are looking forward to running this training segment?
I gave up running specific "workouts" a couple years ago. It's a great feeling to lay down a perfectly evenly-split 20-miler, though.
Q: How has the Wabash River Runners Club helped you towards your running goals?
The WRRC has been instrumental in my training and racing over the last several years. Joe Ely got me into half-marathon and marathon distances. He's also served as a personal coach and trainer. We also work closely together on the WRRC Circular Logic Marathon.