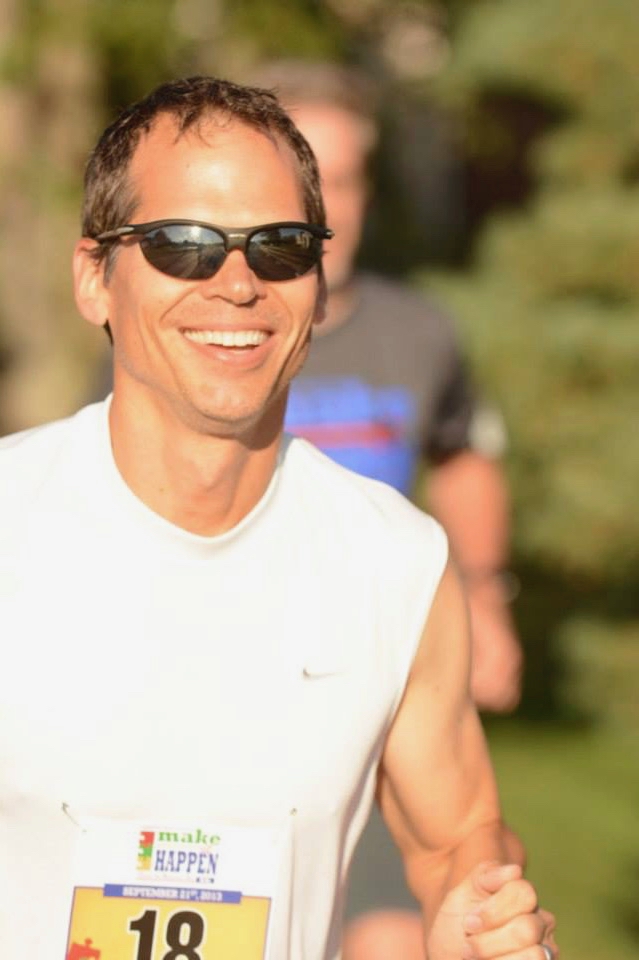 Name: Len Chyall
Location: Lafayette, Indiana
Original Hometown: Euclid, OH (Eastside of Cleveland)
Professional Career: Pharmaceutical Chemist
Favorite Running Shoe: On Cloud
Favorite Race Distance: 10K
Favorite Personal Record (PR): 3:18:17 Chicago Marathon
Favorite Food: My pre-race nutrition is a banana, a Cliff Bar and a can of Red Bull.
Favorite Book or Movie: I highly recommend "Duel in the Sun: Alberto Salazar, Dick Beardsley, and America's Greatest Marathon" by John Brant. I'm reading Julie Rose's translation of Les Miserables by Victor Hugo. I should be done sometime toward the end of 2019.
Q: Can you give us a little background on your running history?
I didn't take up distance running until I moved to West Lafayette in 1992. Back then 6 miles counted for a long run. Most of my training was geared toward competing in an annual 8K run sponsored by the Purdue Co-Rec in the fall. After I turned 40 in 2005, a friend of mine challenged me to train with him for a triathlon. I barely finished the race but from that point on I was hooked on endurance sports.
Q: What are your top memories from your competitive career?
I'm most proud of finishing the "Escape from Alcatraz" triathlon in 2006 and the Boston Marathon in 2007. I remember having dinner at a restaurant in Boston after the race with Brad Pape, Cyndi Meacham and others from the club. We were wearing our finishers medals and when we got up to leave the other guests at the restaurant gave us a round of applause.
Q: Who has had the most influence on your athletic career?
I would not have been successful at the marathon without the support of the Sunday AM crew, particularly WRCC members Brad Pape, Dave Jackson, and Mike Lehe. I'm grateful for Dave Jackson's motivation by wagering a glass of chocolate milk on the last mile on one of our 14-milers.
Q: What races are you preparing for and what are your goals for those races?
Lately I've been competing in 200+ mile relay races as part of a 12-member team. These races combine competitive running with the support and fellowship of being on a team. I've also had a great time participating in the CASA fundraiser cycling challenge at the Subaru test track. I coach the middle school cross country team at Lafayette Central Catholic and most of my efforts in the fall go toward preparing the team for our 3K races. The team is steadily improving in participation and race performance, and I'm grateful for the opportunity to share my passion for distance running with the next generation of athletes.
Q: What are one or two of your favorite workouts that you are looking forward to running this training segment?
I really look forward to the long Sunday runs with the club. It's a bit difficult to get out of bed at 5:30 AM knowing that I have 20 miles to run, but after the first mile I'm always happy that I showed up. Without a doubt, the breakfast that follows is the best part of my training routine. Although I don't look forward to the hill workouts at the Indiana Veterans Home, they've been indispensable in keeping my fitness up.
Q: How has the Wabash River Runners Club helped you towards your running goals?
My first run with club was in 2005. I planned to run an 8-miler with them to get ready for the Indy 500 Festival ½ marathon in a few weeks. The Sunday group made me run another 6 miles with them day and told me that if I stuck with them I could finish a marathon and likely qualify to run the Boston Marathon. I didn't believe them at the time, but they were right. I deeply appreciate the wisdom, patience, and encouragement that many members of the WRRC have shared with me over the years.