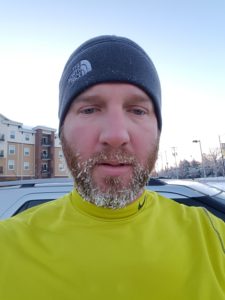 Name: Kyle Charters
Location: Lafayette
Original Hometown: West Lafayette
Professional Career: Sportswriter, Gold and Black Illustrated
Favorite Running Shoe: Brooks Adrenaline
Favorite Race Distance: Half marathon
Favorite Personal Record (PR): 48:45 for 10K
Favorite Food: Wow, might be too many to list. Hard to beat traditional Thanksgiving dinner
Favorite Singer/Band: Any late 90s alt rock
Favorite Book or Movie: Authors: Stephen King, Tara French, Dennis Lehane and Erik Larson. Forced to pick one book, I'd go with "The Given Day," by Lehane.
Q: Can you give us a little background on your running history? What got you first involved in the sport?
I started running in middle school, part of the charter team at Klondike Middle, back when it was only a club sport, and I stuck with it through high school at Harrison High. Had moderate success there, but lots of fun and great friendships.
I was drawn to running, of course, because of my dad, who is far better than I could ever be. I blame my weight (due mostly to my height) and apparently not getting his running genes. Oh well.
Took about a 10-year hiatus after high school before joining the club and starting again about 10 years ago. Never could have imagined I'd enjoy getting out and running 12 miles on a Sunday morning, but here we are.
Q: What are your top memories from your competitive career?
Competitive career? I'm generally happy when I've given it my all and finished.
Q: Who has had the most influence on your athletic career?
Oh pops, I'm sure. I still don't listen to any music while running – ever – because I can remember him telling me you've got to hear the traffic around you. These kids and their iPods these days. And I'm sure we've run plenty of miles together, probably mostly him slowing down so I could keep up.
Q: What races are you preparing for and what are your goals for those races?
None at the moment, although I'll run a half marathon at some point, maybe as early as this fall.
Q: What are one or two of your favorite workouts that you are looking forward to running this training segment?
I look forward to running Sunday mornings, mostly because of the camaraderie of that group. Some of the faces have changed over the years, but many are the same. So it's good to catch up on a weekly basis. And any time I beat Drew is a good day, so those have come frequently lately.
Q: How has the Wabash River Runners Club helped you towards your running goals?
I probably wouldn't be running much at all, or at least not with the frequency, had I not gotten involved.